Who I am...and Why I Made a Website About Budget Safaris in Botswana
I believe every travel website has a story behind, here's mine...
I was born and raised in Francistown, Botswana. As far as i can remember i have always had a passion for nature and animals...
It all started in my childhood years when I used to watch a lot of wildlife programs from the National Geographic television program.
Little did I know that a large number of those legendary award winning wildlife shows were actually filmed a few hundred km from where I grew up.
That's me, on a game drive at the Chobe National Park. It was a rainy morning so we had to wear raincoats.
My Second Passion Discovered....
In 2006, while in college at the University of Cape Town in South Africa...I started messing with internet marketing and totally fell in love with the concept of helping people and sharing information over the internet.

Fast forward to December 2008...
Instead of creating TV shows (like the National Geographic) i finally decided to combine my two passions (nature,wildlife + internet marketing) and started to share the beauty of my country via websites and blogs.
The Problem...
I quickly came to realize that a lot of people (both locals and people all over the world) were under the impression that safari vacations in Botswana were just too expensive to even consider.
This was with reason. Luxury safari camps in the Okavango Delta can cost up to $1000 per night during low season and $2000 during peak season...and if you can afford it, Its worth every cent!.....however...its not for everyone. 
For some people, it's simply not affordable.
However, there are affordable alternatives...and it seemed like most people aren't aware aware of this.
So I created this website , BudgetBotswanaSafaris.com to show you that there are plenty of affordable safari tours in Botswana.
Hopefully after spending a bit of time of the website you'll realize that your dream vacation in the untouched-wilderness of Botswana is very possible...and without a doubt affordable.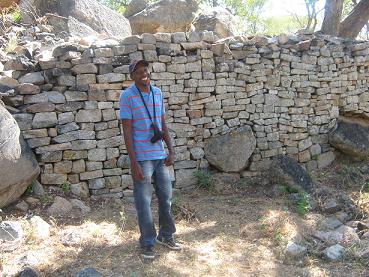 Me, at Domboshaba Ruins in Botswana...which are ruins of an ancient Kings residence dating as far back as the 15th Century AD.
And that my friend, is the story this website.

OK , enough about me...Tell me more about you. Which country are you from? How did you find my website? When are you visiting Botswana?...tell me anything , :).
You can contact me by clicking here...
Warmest Regards,
Zina
PS: If you haven't already joined my facebook page, you can do so below. It's a great and easy way to keep up-to-date with the progress of the website. And I also share lots of fun stuff like photos of Botswana wildlife...and exclusive deals from local safari tour operators.
If its something you might like, you can join my page by liking it below.