Botswana Safari > Botswana Flights

Botswana Flights
A Quick Guide to All the Flights to Botswana...Including those from Air Botswana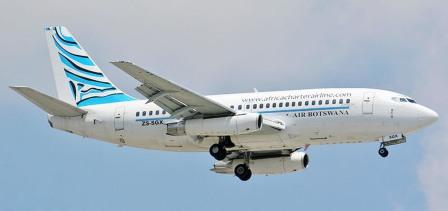 If you are looking for reliable Botswana flights then you will find this page very helpful.
I'm going to reveal airlines (including others besides Air Botswana) which have flights to Botswana, their flight schedules...as well as  a price comparison of the flights.
Lets get started :)...
Direct Botswana Flights
Currently there are no direct flights to Botswana except from the following countries:
South Africa
Namibia
Kenya
Zimbabwe
Therefore, you can only fly into Botswana from South Africa,Namibia,Zimbabwe and Kenya.
Most tourist  fly in from Johannesburg (in South Africa) using one of the following routes:
Johannesburg to Maun
Johannesburg to Kasane
Johannesburg to Gaborone
Johannesburg to Francistown
Other possible direct flights to Botswana are:
Windhoek(Namibia) to Maun (Operated by Air Namibia)
Nairobi to Gaborone (Operated by Kenya Airways)
Harare to Gaborone (operated by Air Botswana)
There are several Air charter companies that operate flights from Johannesburg, Windhoek (Namibia) and Livingstone(Zambia) to Gaborone and Maun.
 If you are flying from overseas (outside Africa) or any other country in Africa besides Namibia,Kenya ,Zimbabwe or South Africa....then you will most likely fly into the O.R. Tambo International Airport (in Johannesburg).... before connecting to Botswana.
This means you will most likely have to first book a flight to Johannesburg with one of the major International airlines.
Then book a flight with either South African Airways (SAA) or Air Botswana (our local airline) for your connecting flight to Botswana.
Flying From North America?
If you are visiting from the USA then you might be interested to know that the South African Airways has recently introduced a direct non stop flight from New York (JFK) to Johannesburg that connects to Maun.
Airlines Which Offer Flights to Botswana

1. Air Botswana

Air Botswana ..which is the one and only Airline in Botswana...is most likely the airline you are going to use when you visit the country for your safari.
Here's why....
It has the widest network of flights within the country
It offers the most regional flights to and from Botswana
The Domestic flights are available between...
Gaborone - Maun
Gaborone - Kasane
Gaborone - Francistown
Maun - Kasane
Regional Flights are available between...
  Gaborone - Capetown
    Gaborone - Harare
    Gaborone - Johannesburg
    Gaborone - Lusaka
    Maun - Johannesburg
    Maun - Capetown
    Kasane - Johannesburg
    Francistown - Johannesburg
When making bookings for your flights to Botswana, keep in mind that not all the flights from Johannesburg to Botswana are on a daily basis.
Current Flight Schedules on Air Botswana...
Currently, only flights between Johannesburg and Gaborone ...and Johannesburg and Maun are available on a daily basis.
Air Botswana flights operating between Johannesburg and Francistown are only available twice a week on Tuesday and Thursday.
Flights between Johannesburg and Kasane operate three times a week on Monday, Wednesday and Friday.
2. Fly Air Link

These guys are a great alternative to Air Botswana if you're in search of flights between Johannesburg and Maun....as well as Johannesburg and Kasane.
The airline is reliable and also has a really user-friendly website that allows online bookings.

Check out the website below ...

http://www.flyairlink.com/

You might also want to check out the South African Airways website...they have partnership with  Fly Air Link...and also offer some flights between South Africa and Botswana...

Visit their website below...

http://www.flysaa.com

3. Air Namibia

If you want to fly from Namibia to Botswana, then Air Namibia is your most logical choice. Below are some their flights that might interest you...

Windhoek - Gaborone
Windhoek - Maun
Maun - Victoria Falls
Windhoek - Victoria falls

If any of these routes interest you, then checkout Air Namibia's website below for for information.

http://www.airnamibia.com.na/

4. Kenya Airways

The flight between Kenya and Botswana was a smart move for the airline, considering the fact that Both Botswana and Kenya are some of Africa's top safari destinations.
Because of that....many tourists regularly travel between both counties for safari holidays..

Anyway, if you do have plans of visiting Botswana ...from Kenya, you'll be glad to know that Kenya Airways has a direct flight from Nairobi to Gaborone. And this flight is available several times a week.

See the official airline website below for details:

http://www.kenya-airways.com
Please note that the above information is subject to change since airlines can change their flight schedules anytime, however i will try by all means to keep this page up-to-date...
5. Chartered  Botswana Flights
There are other flights to Botswana that aren't offered by the major regional airlines like Air Botswana.

One such alternative is to charter a plane.

On this page i am going to share a few companies based in Botswana that can charter flights for you throughout South Africa.

This option is especially handy if you plan on visiting remote areas in Botswana that can only be accessed using small charted planes.

All of the companies revealed below offer charted flights from major cities like Johannesburg , Capetown...
....and also from neighboring countries like Zimbabwe, Namibia AND Zambia to...
...all the main tourism attractions in Botswana...including the following:

The Okavango Delta
The Chobe River and Chobe National Park
Kasane
Maun
Makgadikgadi pans

Here are the recommended Companies which Offer Air Charter Services...

1. Kavango Air

http://www.kavangoair.com

2. Mack Air

http://www.mackair.co.bw

3. Kalahari Air

http://www.kalahariair.co.bw

Other Services Offered By These Companies

Apart from offering charted Botswana flights ....these companies also provide a wide range of other services you might need when you visit Botswana...such as:

Scenic flights over the Chobe River, Okavango Delta, Victoria falls, Chobe National park...and the Makgadikgadi salt pans
24 hour emergency medical evacuations

Private charters (usually used for business)

Airport transfers to remote lodges and camps in Botswana