Botswana Safari > Botswana Safaris

Botswana Safaris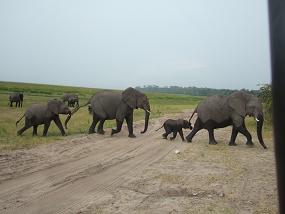 Do you want to know more about safaris in Botswana?...
If so, then read on because I'm going to reveal the following :
The top  attractions in Botswana

Best time to visit



The different types of safaris available


Precautions to take when driving on Botswana roads (if you're self driving)



Precautions to take while camping

What to pack for your safari



Should you use a travel agent ...or make all the bookings yourself?

With that said, lets get started...

The Top Attractions in Botswana

The main attractions in Botswana are the national parks, game reserves and the many private reserves in the country.

These  top attractions include the following:
The Okavango Delta
The Moremi Game Reserve
The Chobe National Park
The Central Kalahari Game Reserve
The Makgadikgadi and Nxai National park
Almost every one that visits Botswana .....will at least visit two of the above attractions.
Other Attractions ...
A lot of people actually only visit Botswana to come see the Okavango Delta, Moremi Game Reserve and the Chobe National Park.
The above three, undoubtedly offer the best game viewing opportunities in Africa. However, Botswana has a whole lot more  to offer.
Some of the lesser known yet great places you can also check out when you visit include ...
Mashatu Game Reserve
Northern Tuli Game reserve

Kwando Concession

Tshodilo hills
Linyanti Concession
Selinda concession
Drotsky Caves
Kgalagadi Transfrontier Park (Mabuasehube Game Reserve and Gemsbok National Park)

Mokolodi Nature reserve
Khutse Game reserve
Kubu Island
Moremi Gorge (including the whole Tswapong Hills region)

Best Time to Visit Botswana for  a Safari

So when is the absolute best to visit Botswana for a safari? ...
Is it during the dry months (May to September)...like many experts suggest?
Or, are the best Botswana Safaris offered during the rainy season (November to April)...?
Each season has its advantages and disadvantages. Check out the advantages and disadvantages of each season below . This will help you decide which season is most ideal for you.
Dry Season Advantages...

The dry season offers better wildlife viewing opportunities, here's why...

During the dry months, there's very little vegetation and this  makes it easy to spot wildlife.

Another reason why you'll see more wildlife during the dry season is because animals are forced to concentrate at rivers and known  water holes to drink water during this season.

Other benefits of choosing a safari during this season are:
cooler weather (the heat in Botswana can get unbearable in summer) and...
Fewer bugs and mosquitoes

Now lets talk about....
The Disadvantages of dry season Botswana safaris

Because this season is peak travel season in Botswana, the prices at safari lodges and those offered by tour operators are usually much higher. So if you are on a tight budget this may be a huge disadvantage.
Another disadvantage is that...because its peak season, camping sites and safari lodges tend to be crowded. However, this is only really a problem in Kasane and the Chobe national park.
Other Game reserves and parks don't really get too crowded.
OK,  time to talk about the rainy season...(from November to around April)

Advantages of rainy season Botswana safaris...
Even though you wont see as much wildlife as in the dry season, there's still plenty to see, like...
The Zebra migration (the second largest in Africa)
The many flocks of migratory birds that visit Botswana during this season

Newborn animals everywhere...because,  antelopes start giving birth during this season

Wild flowers, and thick bush vegetation

Overall, if you're visiting for photography, you're going to fall in love with Botswana during this season.
Another advantage of a safari in this season is that prices are usually much cheaper, ideal if you're on a budget.
Disadvantages....
The biggest disadvantage is the heat. It can get really hot in Botswana and if you aren't used to the kind of temperatures we experience in summer, it could make your safari very uncomfortable.
Other disadvantages include plenty of bugs and mosquitoes....and if you're self driving, the wet ground can get hard to maneuver .  In some places the rains make it impossible to cross bridges and use some routes in the game reserves and national parks.

What to Pack for Your Botswana Safaris

Below is a general packing list, so the quantities of each item you pack will depend on the duration of your safari. Keep in that most safari lodges, camps and tour operators provide laundry services while on safari...so you don't have to pack too many clothes.
On average, your luggage should not exceed 15kg because that's roughly the limit private charter planes allow. Also,  duffel bags are a better option than hard sided bags because they fit better in the charter planes luggage compartment.

Ok, lets gets started with your packing list....

Clothes
Sandals or flip-flops for camp showers and mokoro rides (that is, canoeing)
Sun hat

Closed walking shoes with a tough sole
Underwear and pyjamas 
Shorts
Trousers (avoid denims, rather wear chinos..or cargo pants)
Long sleeve and short sleeve shirts

T-shirts
Skirts
Sports bra's
Socks
Warm jacket (for morning and evening safaris in winter)
windbreaker light jacket

Swim suit
Handkerchiefs or bandanas
A tracksuit and a fleece

Body towel and face towel
Cotton clothes are recommended because they are more comfortable to wear in the high temperatures of Botswana.
Earthy colors (khakhi, beige, olive, grey, brown ..etc) are also recommend since they will camouflage you ...and not scare off the animals (avoid wearing white and bright colored clothes)
Last but not least, it is a good idea to wear long sleeved items as well as trousers and long skirts in the evenings because this will help  prevent mosquito bites.
Toiletry
Tooth brush and tooth paste
Soap, lotion, shampoo and deodorant
Health
Sunscreen with an spf of above 30 
Lip balm
Asprin or any other headache pills
Your Prescriptions pills
Insect repellant
Hand sanitizer
Antiseptic / anti bacterial cream
Anti-diarrhea  pills (in-case you get food poisoning)
Plasters/ bandages
Antibiotic pills

Antibacterial wet wipes
Eye drops and lots of extra contact lenses (you'll be changing them often because it is impossible to keep the sand out of your eyes on a safari)
Anti allergy medication
Travel Documents
Your Passport (with any  Visa's that are needed-- depending on your nationality)
Plane Tickets
Travel insurance
Copies of the above as well as those of confirmed bookings at safari lodges and camps (keep the copies and the above original documents in separate bags)

Some local currency

As well as either US dollars, Euros or pounds for tipping and Customs payments

Equipment
Waterproof binoculars
Camera (don't forget chargers,  plenty of batteries, lens,  and memory cards)
Flashlight or a head lamp

Cellphone and charger (you can always get yourself a local simcard when you get here)
Ipad 
Solar charger (it will come in handy since there is a limited amount of electricity in the bush)
Extras
Polarized Sunglasses
Reading glasses
Cheap waterproof  watch
Reference travel books
Travel apps installed in your ipad and phone
Please try to pack as light as possible.

Types of Botswana Safaris
I like to think of Botswana safaris as either being  self drive or guided.
On a self drive safari, you drive yourself during the game drives through the game reserves and national parks.
And on a guided safari you're driven and guided through the parks by a professional safari guide.
With both self drive and guided, you can either choose to sleep at   safari lodges...or rough it up and opt for camping.
The camping safaris are usually referred to as mobile camping safaris.
Other Types of Safaris You Can Do While on a Guided or Self Drive Safari
Besides the expected game drive, there are other types of Botswana safaris you can add to your itinerary or safari packages. These include the following...
Elephant Back Botswana Safaris
Fishing safaris
Horseback safaris
House boat safaris
Canoeing safaris (known as a mokoro safari)
Quad-bike safaris
Birdwatching safaris
Fly in safaris

Mountain bike safaris
Walking safaris
If you decide to go camping (either guided or self drive), below are  a few camping tips and precautions you should take.
Botswana Camping Tips ( and Precautions to Take)
1. Keep your tents closed at all times (especially at night) because.....

A closed tent during the day will prevent insects and mosquito's from entering your tent

A closed tent at night will prevent you from being dragged out of your tent by a lion... :)
2. Since there are many dangerous animals in the bush, its best to stay in your tents at night and avoid straying into the bush alone without a safari guide.
3. Avoid littering and don't leave food around your campsite as this will attract baboons and other potentially dangerous animals.
4. Do not keep meat in your tent. This will attract leopards, lions...hyenas ...and other dangerous animals.

5. Bring a flash light with you, it'll become handy at night.
6. Put out all campfires when you sleep and when you leave the campsite.
7. Avoid washing utensils and clothes in rivers and drinking holes in the parks and game reserves. It not only contaminates the water with detergents (which could be harmful to wildlife), it is also  dangerous because you could get attacked by crocodiles.
8. Swimming in rivers and water holes is also a "no no" for the same reason.

And if you decide to do a self drive safari in Botswana, here are some precautions to take when driving on Botswana roads....
Precautions to take on Tarred Roads
If you're from the USA then keep in mind that vehicles in Botswana are right-hand driven, therefore all traffic drives on the left side of the road.
Animals on the Road
One of the leading causes of road accidents in Botswana are domestic animals. Since most farms in Botswana aren't fenced; donkeys, cattle, goats and sheep tend to graze really close to the road and often drift onto the road.
This is especially dangerous at night when animals aren't as visible as they as they are during the day.
To ensure a safe drive on Botswana roads (and a happy safari in Botswana )...stick to the speed limits and keep an eye for any road signs that indicate cattle rich areas.
The Francistown - Nata - Maun road has many Cattle and donkeys so it's advisable to avoid over-speeding when using this road.
Precautions to Take When  Driving Off-road
Almost all the roads you'll be using in the national parks and game reserves require four-wheel drive. Therefore if you don't have an appropriate vehicle, you should seriously consider renting one.
In addition to the above, remember to bring extra petrol (or diesel), satellite phones, water, maps, gps, spare tires,high lift jack (as well a normal one), necessary car tools and essential spare parts.
Driving in the bush is very unpredictable, therefore its important to be totally self reliant.
Last but not least, avoid over-speeding when driving in the game reserves and national parks. Remember that these areas are filled with animals and also there are other people that may be driving in the park.
To avoid accidents, keep your speed below the maximum speed of 40km/h when driving in game reserves and parks.
Should You Use a Travel Agent or Tour Operator to Book Your Botswana Safaris?

My opinion is that if its your first safari, then you're better off getting a knowledgeable, trusted and experienced travel agent to make all the bookings for you.
It can get really confusing if you aren't familiar with all the...
attractions you can visit...
hotels, lodges and campsites to sleep at...
And activates you can do in Botswana.
And you are bound to get overwhelmed and waste lots of time trying to figure it out all by yourself.
However, if you've done it before then dealing direct with hotels, safari lodges and safari tour operators could prove to be the better option because it could actually be faster and cheaper .
Keep in though that, booking direct does not guarantee a cheaper price than using a travel agent.
This is because travel agents get special "agent only" prices. They then add their markup to come up with the price they present to you - - - and this marked up price can actually be cheaper than the price the lodge or tour operator will charge you.
When its all said and done, the success of your Botswana safaris will not be determined by whether you choose to use a travel agent, or choose to find your own operator or make bookings direct at safari camps.
Here's what's going to determine the success of your Botswana safaris....
1. Doing your own research on Botswana .
You have to take some time out to do extensive research on Botswana. Learn about the attractions we have, get to know all the best game reserves and national parks...as well as campsites.
Use websites like this one for research , as well as travel forums and review websites....to get advice and tips from fellow travelers who have already been on a Botswana safaris.
2. Choosing the right travel agent, tour operator and safari lodges and camps
Secondly, you have to choose a knowledgeable,reputable and experienced travel agent or tour operator.
It's  a known fact that there are many fly-by night companies that are out to make a quick buck. Your mission is to get to know who's legit and who's fake.
You're not alone though, because like i mentioned above...there are many online review websites and travel forums you can use to get find good companies.
Conclusion
I hope you found this guide on Botswana safaris helpful. If you still feel confused and overwhelmed about planning your safari, then send me an email , I'll try my best to help you.
And if i cant, I'll refer you to safari experts I trust.
Happy safari planning :)...