Ghanzi Airport
The Ghanzi Airport is located 1km from the town center. It has an Airport code of GNZ.
The Airport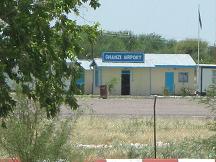 The main airlines in Botswana and South Africa do not offer any flights to the airport at the moment. However you do have the option to charter a private plane from other cities and towns in Botswana to Ghanzi.
---
New Airport
Plans for a new airport in Ghanzi are under way and construction is said to begin mid 2009.This new airport will be located in the western part of the town.
In the near future Air Botswana and other major commercial airlines will therefore have flights to Ghanzi.
This is great news for us safari lovers. A much more larger and sophisticated airport will make access to the Kalahari not only cheaper but much faster! :-)...
It is also a bonus for the town of Ghanzi and its residents. A larger airport will definitely boost tourism in the region.
Keep an eye for updates and pictures of the new airport on this page in the near future...
---
Return to Ghanzi

Return from Ghanzi Airport to Safaris in Botswana home page
---