Trip to Ghanzi...
Ghanzi, the home village of my brother in law.

Every year in December him, his wife (my sister) and their children visit "home" to go see the grandparents.
I had initially planned to join them but i could not make it.

So i asked them to take a few pictures for us (you and me.. ;-))
I am going to share with you all the tips and lovely photos right here on this page...
Lets get started!
Their journey started in Francistown where we all live.To get there they traveled through Nata and Maun. In total it is a journey of about 800km....
---
Since the Ghanzi Airport is operating, you have an option of flying there if you are not too keen on driving long distances..
---
The trip was a long and tiresome but very far from boring. With so much to see on the road, they were kept entertained all way by the beauty of Botswana and her wildlife....

Once at home they did many things in the capital of the Kalahari...
They went on a Lion Safari and even spotted a white cub!!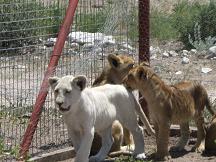 Shopped at the local malls for groceries and other essentials...(Ghantsi has 3 malls where you can do your shopping!).....there is also a Bank with an ATM Machine......cool hey!
Shopping Mall
---
Attractions
There is so much to see , however the main attractions are:
The Central Kalahari Game reserve (located 100km from the town)
Bush Man Tours
Tautona Lodge and Game Reserve (only 5KM from the town and provides you with both accommodation and game viewing)
The many Game Farms in the area
Activities
Besides what they did, the other activities you can do are:
Game drives
Bush man tours
Bush walk safaris
Bush man dance viewing
Cultural Village Visits
---
The town has two main hotels , The Tuatona lodge and the Kalahari Arms Hotel. See the lovely pictures below for detail.
Both are luxurious and a bit pricey. If you are on budget the Tautona lodge offers camping and caravan parks which are very affordable.
Tautona Lodge
---
Overall they had a blast....and i am sure you will too!
If you love safari's and are planning to visit Namibia, South Africa or Botswana, visit the link below, its a really interesting website that you'll love :-)...
Kruger-2-Kalahari
Hints and tips for getting the most out of your Southern African Safari. Includes advice on watching and photographing wildlife in the big-5 national parks of Etosha in Namibia, Kruger National Park, and Pilanesberg in South Africa and the Kgalagadi Transfrontier Park in Botswana.
---
Return from Ghanzi to Safaris in Botswana home page
---