Khama III Memorial Museum
Serowe Tourism, Botswana Culture and Botswana History
Located at the base of the Thataganyana Hill, the Khama III Memorial Museum is one of the best tourist attractions in Serowe.
The museum opened its doors officially on 19th October 1985.
The museum is housed in the "Red House" which was built around 1910.

I think the house was built for Khama III but im not too sure.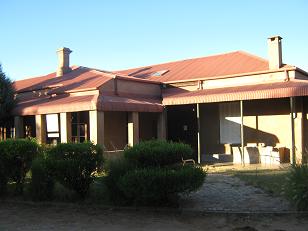 (Above: Khama III Memorial Museum...)
What You Can See...
---
There is show much to see there. Set aside at least 2 hours to explore the museum...
My favorite exhibitions at the museum are:
The History of Serowe

The exhibition covers all the major events that shaped Serowe - such as the funeral of Sir Seretse Khama in 1980 and President Mandela's visit to the village.

The Bessie Head Room

This exhibition consists of a replica room of Bessie Head, her writings as well as her history from the time she was in South Africa until her death in Serowe.

The History of Khama III and that of Sir Seretse Khama, Botswana's first president




The history is extensive. I really enjoyed the photos that are included in both exhibitions (that of Sir Seretse Khama and Khama III).

(to the right is a chair that was used by Khama III at the London Missionary Society church )

This exhibition also covers the history of the Bangwato tribe of which Khama III was chief.

If you want to learn more about the Botswana History, then you are going to love it.
Other interesting things included at the Khama III Memorial Museum...
Paintings and crafts by local artists, these include...

wooden statues
painted ostrich eggs
egg shell necklaces





Extensive history of the San people. It covers their lifestyle as far back as 25000 years ago till today.

This exhibition is a total must see if want to know and understand the San people better.

(Really cool painting of the san by a local in Serowe)

Another interesting exhibition i saw was one that shows the culture of Batswana - There you will see a cattlepost, a replica village home (picture below), traditional musical instruments as well as samples of traditional healing medicine...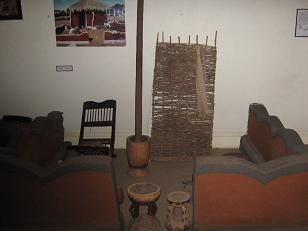 (below:Segaba which is an African violin)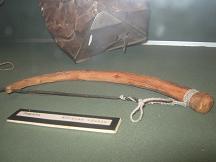 Tips...
---
To get the best out of your visit to the Khama III Memorial Museum, ask the museum caretaker to give you a mini tour.
They are well informed about Botswana history as well as that of Serowe. I got to understand some of the exhibitions better thanks to the caretaker.
If you want to take a souvenir with you , don't despair because the museum also has a craft shop that sells locally made craft...
---
Return from Khama III MEmorial Museum to the Serowe page

Return to the Safaris in Botswana home page
---