Botswana Safari > Maroon Tours and Safaris

Maroon Tours and Safaris

Tailor-made Tours in Botswana, South Africa, Namibia , Zambia and Zimbabwe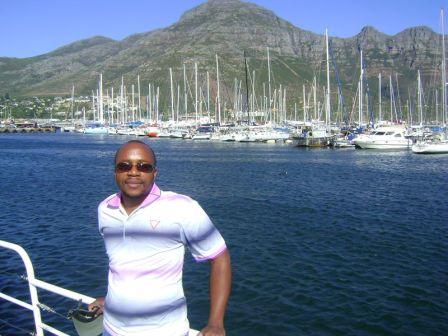 Tendai on a "Cape Town" tour he organised for clients
If you're confused and overwhelmed about planning a safari tour to Botswana (and surrounding countries), ....then you're going to love what i have to share with you today.
Here's why:
I'm going to introduce you to a reputable and experienced travel agent who can plan your whole safari tour for you at a very reasonable price.
He's name is Tendai, and he owns Maroon Tours and Safaris, which is one the leading travel agencies in Botswana.
You see, Maroon Tours and Safaris is a unique travel agency. Unlike ordinary travel agents, Tendai operates both as a travel and tour operator.

What does this mean? It means , Tendai can....
Book your accommodation  in Botswana, as well as South Africa, Zambia, Namibia and Zimbabwe.
Book your car rentals (including 4x4 hire for safaris)
Find the best flights for you (including chartered flights)

Advice you on the best times to visit Botswana

Tell you what to see and what to do during your tours
...and all the other stuff regular travel agents do.

But in addition to that, he can also do  really cool stuff like...
Pick you up at the airport and drop you off at your hotel
Or Pick you up at the airport in Johannesburg, and drive you to Botswana...and also take you on safari tours throughout Botswana, South Africa, Namibia and Zimbabwe.
Take you on culture tours in the many villages in Botswana, where you'll eat Botswana food and experience our culture and lifestyle  firsthand

Take you on a Diamond tour in Botswana where you'll visit the largest diamond mine in the world (by value)
Take you on another diamond tour in Gaborone where you'll see rough diamonds being polished (you'll also get the opportunity to buy diamonds on this tour - - legally of course)


Rent you his mini-buses which are ideal for family safaris

Drive you throughout Southern Africa if you have your own vehicle ...but aren't interested in driving yourself


Do Transfers between Botswana and South Africa, Namibia, Zimbabwe and Zambia (as well as within Botswana)

Take your whole family (including children) for city tours in places like Gaborone, Johannesburg, Durban and Capetown
.....

the list is endless

...and I'm hardly scratching the surface!

In a nutshell, there isn't a task too small or too big for Tendai to handle. If its travel related, he's the guy you need to talk to.

But don't take my word for it...
Since a picture is worth a thousand words..., checkout the photos below of Tendai and his clients having fun on safari tours he planned and organized.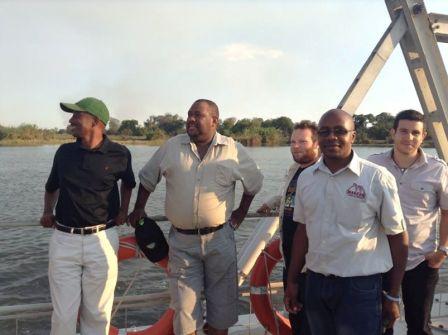 Tendai with clients on a boat cruise on the Chobe river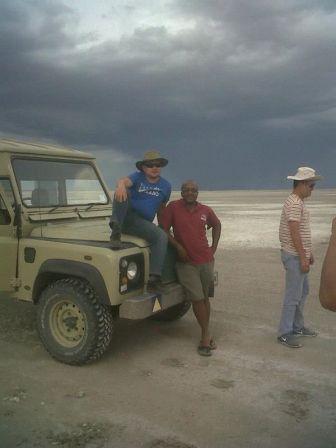 Taken during a safari tour in the beautiful Makgadikagi and nxai pan national park (the Makgadikgadikgadi pans are the largest salt pans in the world)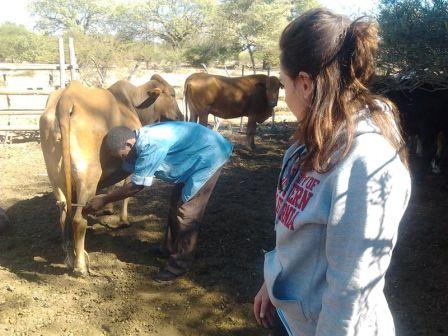 Taken at a cattlepost during a culture tour in Mochudi (a village about 30 km from Gaborone, the capital city)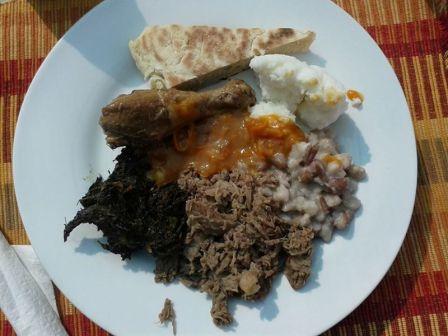 Traditional Botswana food eaten during one of Tendai's culture tours at the bahurutse cultural village
Like I mentioned above, Tendai is an expert at planning the logistics of a any type of tour you can imagine --- not only in Botswana but also in Namibia, South Africa, Zambia and Zimbabwe.
Trying to plan such vacations yourself can be confusing, overwhelming and extremely time consuming.
So, if you don't want to deal with all the hustle...., why not leave it all to Tendai, so you can focus on enjoying your vacation.
Checkout more photos below --- all taken on tours outside Botswana.... organized by Tendai.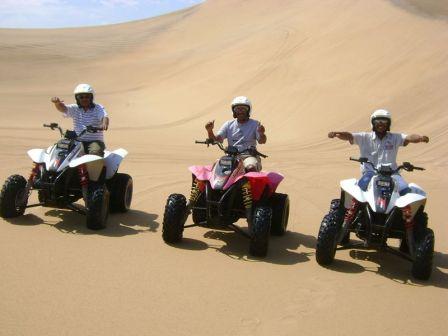 Riding quad-bikes with clients on the dunes at Namibia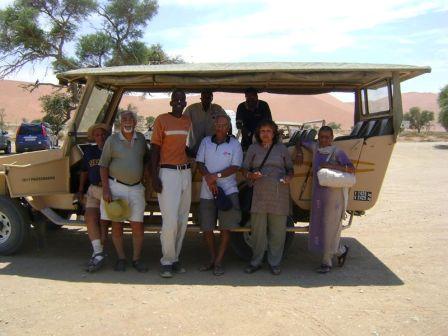 Taken just before a safari into the dunes in Namibia (see the dunes behind?)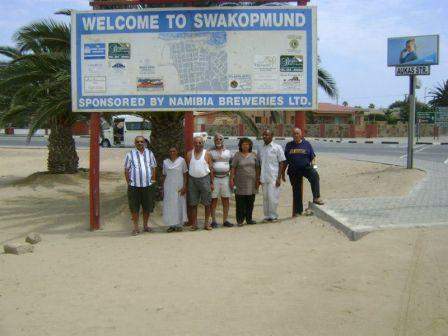 Tendai in Swakopmund with clients (Swakopmund is a famous coastal town in Namibia)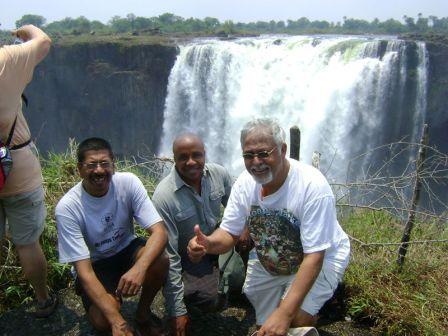 Touring the Victoria Falls in Zimbabwe with clients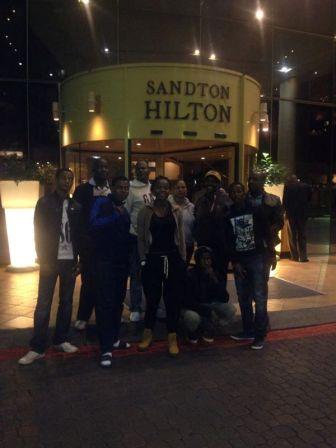 Taken during a 3 day family tour of Johannesburg in South Africa
You too can leave all the hard work of planning a safari to Maroon tours and safaris. All you need to do is tell Tendai...
what you want to do...
where you want to do it....
and when you want to do it...
......and he'll handle everything in great detail, so you can have that once-in-a-lifetime safari vacation you've always dreamt of.
So why should you choose Tendai..

Reason 1: Because he genuinely cares. Yes, he does.  In fact, he has on many occasions referred a client to another Travel agent or tour operator because he felt the other business could do a better job.
To Tendai, organizing a tour for you, is one the most fulfilling things he does.
That's one of the reasons why most of his clients become very close friends of his....even years after the tours.

Reason 2: Tendai is very knowledgeable and has amassed tons of experience over the years. Because Maroon Tours and Safaris has organized tours for every type client you could ever think of, I'm pretty certain Tendai can do the same for you with ease.

He even did a tour for a few delegates from the USA army who visited Gaborone...(see the photo below)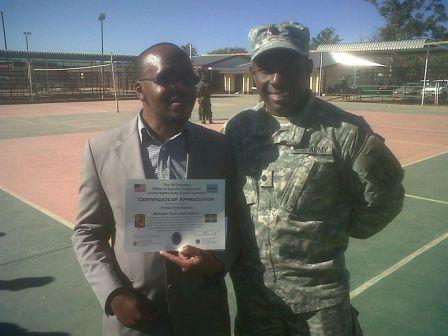 Tendai holding a certificate of appreciation from the USA army.
You'll definitely be in safe hands if you let Tendai handle your travel arrangements and planning for you.
How To Contact Tendai at Maroon Tours and Safaris

If you happen to be in Gaborone, you can visit the Maroon Tours and Safaris office at the following address....
Office 2,  Sismo Building....which is a few blocks away from the First National Bank, along the Old Lobatse.

If you would rather send him a message online, then you can use the form below.
Simply enter your name, email address...and tell Tendai how he can help you ..... and he'll email you back within an hour or so (few hours tops).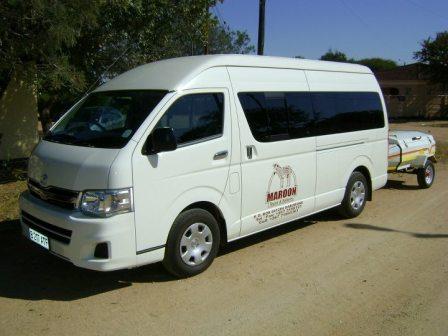 Part of Tendai's fleet . The vehicle is mostly used for transfers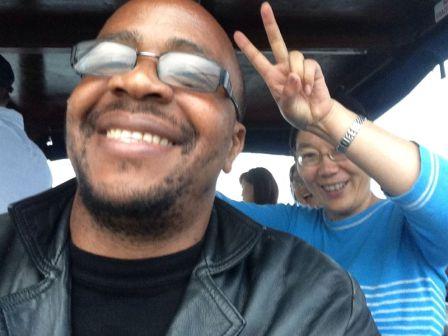 Tendai with a happy client during a tour