The No 1 Ladies Detective Agency...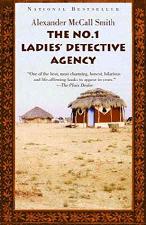 The No 1 Ladies Detective Agency is a movie based on the best selling book series by Alexander McCall Smith.
The movie ,which is based on the first book in the series has also been expanded into a six part series that has been screened on both BBC and HBO...
Both the movie and the series were filmed in Botswana. A large part was filmed in Gaborone and its surroundings.
Other Botswana locations featured in some of the scenes include Botswana tourism "hott" spots like:
The Makgadikgadi Pans
The Okavango
The Kalahari
The Number 1 ladies detective agency book series has been translated into more than 40 different languages and sold more than 15 million copies. If you loved the novels , then you are going to love the movies more! :-)
---
The movie stars the famous rhythm and blues (R&B) singer , Jill Scott.
In the movie and series she plays the lead role as Precious Ramotswe, also referred to as "Mma Ramotswe"...the owner of the first female owned detective agency in Botswana.
No 1 Ladies Detective Agency Safari...
---
After the filming of the Number One Ladies Detective Agency, the sets which include model villages,bars ,a hospital and more... were been kept intact for your viewing pleasure.. :-)
If you have watched the movie or read the book, now you have the opportunity to actually visit the sets where the movie was filmed...
The tours of the no 1 ladies detective agency production sets are exclusively offered by a safari tour operator called Africa Insight which is based in Gaborone.These tours are usually referred as "Mma Ramotswe Tours".
If the tours interest you , you could "bundle" the Mma Ramotswe tours with a tour of Gaborone and also checkout some of the great safari spots surrounding the capital city...
These include:
Gaborone Game Reserve
Mokolodi Nature Reserve
Khutswe Game Reserve (a bit far but worth a visit)
The Alexander McCall Smith Traditional Rest Camp
---
This is a rest camp located in the Mokolodi Nature Reserve and is a must visit if you are in Gaborone for a day or two.
If you have read Blue Shoes and Happiness (which is part of the No 1 Ladies Detective Agency Book Series)....you will remember that the Mokolodi Nature Reserve was featured in it numerous times...
The camp offers a great experience of traditional Botswana culture and has several fun activities on offer.
Some of the activities offered at the camp include:
Traditional Dance Viewing
Rhino and Giraffe tracking
Game drives
...and if you love traditional Botswana food, then that alone is a good enough reason to visit the camp!


---
Return from no 1 Ladies Detective Agency to the Safaris in Botswana home page
---